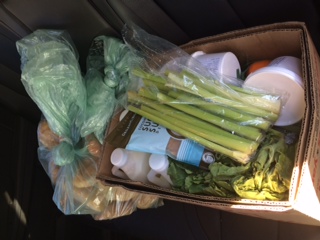 Thanks to our volunteers!
Thanks to our volunteers, we are able to pick up more and more vendors. Here is a story from one of our amazing volunteers:
"I remember the moment that I flipped open the paper and read an article about a new Charity called Leftovers, and even before I finished reading I knew I had to be a part of it! It's been almost 2 years and I'm still so impressed by the whole thing. I love the vendors that donate their delicious products. I love that there are amazing people who make sure that same delicious product is transported to people who need it. And I really love the moments of interaction I get with people wherever I go! All the vendors and all the recipients are so awesome and grateful, which in turn makes me grateful for the opportunity to be able to help out!  The leftovers experience is eyeopening and enriching and will definitely change the way you see your community, the people in it, and this city as a whole." – Jennifer P.