Welcome to Day Two of Leftovers' year-end journey into food rescue from the food's perspective! (Missed Day One? Check it out here!) Today our special spud just might be lucky enough to meet one of Rescue Food's dedicated volunteers…

We return to our story in progress, where Russell the Russet finds himself in an unexpected place…
I bumped up against all the other produce in the box, helpless, waiting for the fall into the garbage bin. Not food. Just waste. 
But suddenly, the box was in the back of a vehicle! I caught a glimpse of a black shirt with a white word on it–Leftovers. The hatchback closed, and someone turned on the ignition. I could hear music on the radio and the sounds of people talking. No one had bought me. But no one had thrown me out either. 
What was going on? Where were we going?
Will it be destiny or the dump? Learn where Russell is heading next in our third intriguing installment!
At Leftovers, our volunteers are the heart of everything we do. Rescue Food drivers (or walkers, or cyclists) create an account in our app, then sign up to complete routes, rescuing food from donors and delivering it to service agencies running food access programming in their communities. In 2021, our 491 volunteers in Alberta and Manitoba made more than 9000 trips to keep good food out of landfills and increase food access for neighbours facing barriers.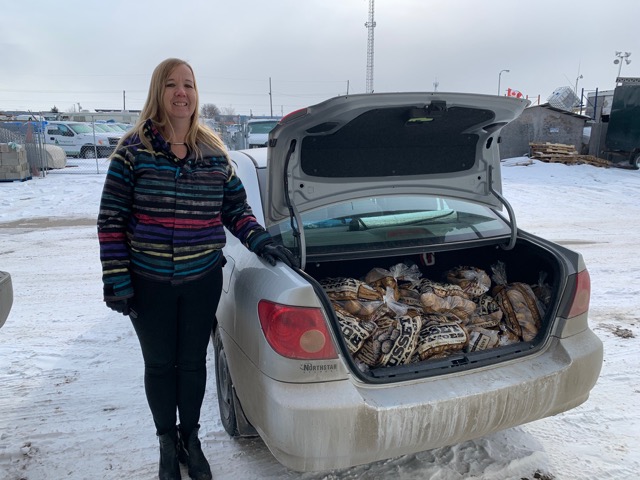 But Rescue Food volunteers do more than just get good food from one place to another. They also check the quality of the food, make sure it gets transported safely and that perishables stay at proper temperatures, and record the donation weight, so Leftovers can track how much food is being redirected. 
Rescue Food volunteers are passionate about their communities, about social justice, and about making sure that good food gets to the people who need it.