Do you have a question or need more information?
Read our Frequently Asked Questions below.
How do I signup to volunteer with Leftovers?
Thank you for your interest in volunteering with the Leftovers Foundation! We post all of our volunteer opportunities on our Rescue Food App. Instructions for downloading and using the app can be found here.
You can watch a tutorial video on how to use the app here.
If you have additional questions about using the app, contact us.
What if the service agency listed on the app is closed or won't accept the donation?
Please go to your route in the app and select the information tab (it is on the right side, next to the tabs providing info about the donor and service agency). This will list options for where to take the food.
What do I do if the app gives me an error message or isn't working?
Please try the following:
Make sure the app is up-to-date (check the App Store or Google Play for updates).

Make sure that cellular data is turned on for the Rescue Food App by double checking in your phone's settings.

Try logging out and closing the app, and then sign in again.

Delete and re-download the app.
If you have tried all of the above and you are still having issues, please email us at
app@rescuefood.ca
with a description of the problem and screenshots, if possible, and we will try our best to get to the bottom of it!
Can I take photos while volunteering?
We encourage volunteers to take photos while picking up donations. You can upload a photo on the app when you complete your route.
PLEASE NOTE: to respect the privacy and sensitivity of the service agencies, do not take photos at the dropoff points.
Do I need any supplies or special equipment to volunteer?
We have scales, food thermometers, tote bags, and t-shirts, free for volunteers, no matter how many routes you have completed. Supplies are optional and are not required to volunteer, provided you bring your own mask.
Scales are used to measure the weight of donations — this data is important for us to track our impact! If you don't have a supplied scale, a bathroom scale works as well. If you are able to guess the weight of objects well, then that is another option.
Thermometers are only required for pickups with a cooler icon in the app. This icon indicates that you may be picking up refrigerated or frozen items. AHS requires that we record the temperature of these items to ensure that they are being transported safely (detailed instructions on this can be found in Appendix C of our

Donated Food Guidelines

).
How can my organization access food donations with Leftovers?
Fill out the agency questionnaire here on our website and one of our team members will be in touch with you!
What types of food donations does Leftovers redirect to service agencies?
This depends on what our food donors have to donate and varies from week to week. Some donors are more predictable (e.g., bakeries will donate bread and sometimes treats), while others are much more unpredictable (e.g., grocers may have an entire case of yogourt one week and an entire case of bananas the next).
How do you ensure the safety of food being donated?
All of our food donors and volunteers have read and agreed to abide by AHS' Guidelines for the Distribution of Donated Foods as well as our Leftovers Donated Food Guidelines. Leftovers will redistribute food that is past its 'best before date,' but we won't redistribute food that is past its 'expiry date.' For clarification on this, please read Appendix B in our Donated Food Guidelines.
The goal of our Home Harvest program is to ensure that excess, home-grown produce from our communities is not wasted. If you have food growing in your yard that you would like to share, we will organize volunteers to pick it up and redirect it to local service agencies.
The Home Harvest program is available through the Rescue Food App. Routes are laid out in the same way, for your convenience. Be sure to upload your photographs through the app, for the rest of our community to see.
How do I sign up to donate food from my yard?
Fill out the Harvest Request Form here on our website and someone from our team will contact you with more info!
Will Leftovers harvest the food?
Yes! You can either harvest the food yourself and we will help redirect it, or we can arrange for our volunteers to harvest the food for you. Let us know your preference when filling out the Harvest Request Form.
The Leftovers Foundation was founded by Lourdes Juan, a Calgary-based entrepreneur and philanthropist. Read more about Lourdes' story here.
How much food is wasted in Canada?
Over 49 billion dollars worth of food is wasted in Canada every year. This value is based on avoidable food waste – from production, processing and manufacturing, distribution, retail, consumer, and hotels, restaurants and institutions.
Where does the majority of food waste come from?
Most avoidable food waste occurs during the processing and manufacturing stage of the food supply chain – a value of over 20 billion dollars. However, the second largest value in avoidable food waste comes from the consumer stage – over 10 billion dollars.
What are some tips for being conscious about food waste in our own homes?
Shop smart and realistically
Buy only what you need and keep track of what's in your fridge before you go shopping – so you won't double up on products you don't need.

Plan out your meals by writing a detailed shopping list.

Purchasing locally sourced produce and food from local farmer's markets also helps!
Make the freezer your friend
You can freeze just about anything to give it a longer life.
Only take what you can eat
At all-you-can-eat buffets, take only what you can eat.

When making food at home, keep it in mind to make meals reasonably portioned – which will also help to prevent food waste.
Keep track of what you throw away
This will help you figure out which food items you're wasting on a regular basis.

Adding dollar signs to what you throw away will add value to what is being wasted.
Where can I access food as an individual or family?
Do you have a question or need more information that you couldn't find in our FAQ?
Please fill out the form below and we'll get back to you.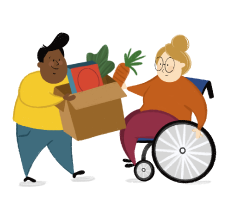 Address: Unit 4, 1925 39 Ave NE, T2E 6W7, Calgary AB
Address: Unit 4, 1925 39 Ave NE, T2E 6W7, Calgary AB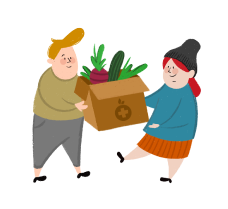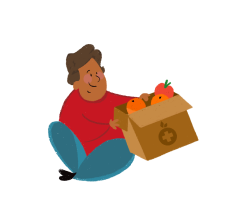 Address: Unit 2, 585 Jarvis Avenue, R2W 3B2, Winnipeg MB